Britannia donation – what, how and why?
Thank you very much for your interest in supporting our project by making a donation. Your financial support in the form of donations is an extremely valuable gesture for us, allowing us to cover the costs of project development on an ongoing basis, as well as expenses related to the maintenance of the leased infrastructure (professional servers with software, broadband fiber optic connections, website hosting, domains and several other fees).
Despite the obvious fact that many of you would be ready to support our project only for its continued sustainability, not expecting anything other than a thank you, we decided that your gesture deserves at least a few virtual bits, the value of which is honored in the real world is not certain, although they are to express our gratitude to you for contributing to the development and existence of our common world.
Therefore, each of the donations made is associated with a specific number of tokens (called Sovereigns), which – if you wish – you will be able to exchange for various virtual items / options that are our thanks for your donation. Some of them were included in the Ultima Store module (available in the game options after pressing the ESC key), while the rest below, including this post (items / options not included in the Ultima Store module).
Donations can be made using the donation module. Among the forms of payment in the donation module, you can choose a transfer from your Paypal account, but also from a credit card – through the Paypal gateway – even without the requirement to have a registered Paypal account.
Payments made via the Donation Module – with the use of Paypal / credit card are signaled to us automatically. Therefore, you do not have to obligatorily inform us about the payment itself. Nevertheless, in order to receive sovereigns, please indicate in the "comment" field the donation form or via a private message (on Discord to Fenris) – information containing the account login (without the password) and the name of the character – to whom they are to be sent.
As already indicated, each donation option is assigned a certain number of Sovereigns. Sovereigns are tokens transferred to a specific character in the game by the Staff (GM) in the form of a bright blue scroll (Sovereign scrolls). By clicking on this scroll, you assign sovereigns to the character's account and check their current number in the Ultima Store module window in the game (ESC key and Ultima Store option). I would like to add that the sovereigns go to the same balance during the game – as rewards in the Achievement System. A future selection of any rewards indicated here or in the Store module will reduce your sovereign balance.
So if in the future you only feel like it, please indicate the selected option in the Ultima Store in the game and the system will give you a reward as part of the exchange of sovereigns. If you would like to select the prizes listed below (not included in the Ultima Store), please contact Fenris via Discord priv with:
– login of your account to which sovereigns are assigned (without entering a password);
– name of the character to whom the virtual item is to be allocated (reward). The required GM sovereigns will be taken from your game account. At this point, we would like to point out that the shard keepers will not provide third parties with information about any prizes you choose.
In closing, we would like to thank you all once again, both for being with us and for all the support you show. Hoping to live together for a long time with you in the wonderful world of Britannia, please be understanding for our mistakes and mistakes 🙂
See you in the game Friends
Rewards available for the exchange of Sovereigns – WarCry: Britannia
In addition to the options available in the game, in the Ultima Store module (available in the game options), below we present other virtual items that can be obtained if you want to use the accumulated Sovereigns [SWR]. We also encourage you to familiarize yourself with the option of the Contributor System of our project 🙂
---
---
Something for the character:
– Advanced Caharacter – (500 Sovereigns)
Available variants:
Advanced Characters – table 1:
Advanced Characters – table 2:
Advanced Characters – table 3:
– Change the color of the facial hair (beard and mustache) to a special color:
* special beard dye deed: 500 SWR
– Special title:
* giving the chosen title to the character (cannot be offensive): 500 SWR
Useful equipment
Special paints:
– Furniture Dye Tub – 1000 SWR (used for coloring furniture)
– Special Dye Tub – 1000 SWR (few, new colors for use on fabric that are not available in the regular dye palette)
– Leather Dye Tub – 1000 SWR (dyes leather armor with the colors from the list)
– Runebook Dye Tub – 1000 SWR (colors runebooks)

Auction Safe – 500 SWR

enables the listing of an item for sale in the form of an Auction. More information – The Auction Safe
Decors
Statuettes – to decorate your building (200 sovereigns each).
Choice of (statuettes with sound effect):
row 1 – Stratos, Santa, Krampus, Khal Ankur, Krampus Minion, Horse, Pig, Goat, Ice Fiend;
row 2 – Crystal Elemental, Flesh Renderer, Terathan Matriarch, Exodus, Sakkrham Bird, Tiger Cub (nie pet), Dragon Turtle, Navrey, Fire Ant;
row 3 – Black Cat, Halloween Ghoul, Sherry the Mouse, Slasher of Veils, Stygian Dragon, Medusa, Primeval Lich, Abyssal Infernal, Archdaemon;
row 4 – Crocodile, Daemon, Dragon, Earth Elemental, Ettin, Gargoyle, Gorilla, Lich, Lizard Men;
row 5 – Ogre, Orc, Ratman, Skeleton, Troll, Cow, Zombie, Llama, Ophidian;
row 6 – Reaper, Mongbat, Gazer, Fire Elemental, Wolf, Seahorse, Harrower, Efreet, Slime;
row 7 – Plague Beast, Red Death, Dread Spider, Ophidian Archmage, Ophidian Warrior, Ophidian Knight, Ophidian Mage, Dread Horn, Minotaur;
row 8 – Dark Father, Platinium Dragon, T-Rex, Zipactriotl, Myrmidex Queen, Virtuebane, Hydros, Pyros, Lithos.
Blood pentagram – 200 SWR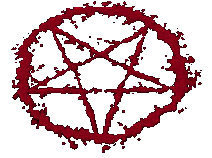 decorative bloody pentagram
Potted Cactus Deed – 200 SWR
(allows you to choose one of the cactus variants)
Wall Banner Deed – 200 SWR
(allows you to generate one of the banners to hang on the wall of houses)
Decorative stone Ankh – 200 SWR
(does not resurrect players)
Lighthouse – 200 SWR

The Lighthouse allows you to summon a lost ship with its weapons in the form of a statuette in a backpack (items in the ship's storage are lost). The lighthouse is assigned to the account
Cannon – 200 SWR (two pieces)

Set of two decorative Cannons. Filled with an exploding potion, it can fire with a light effect
Map table – 200 SWR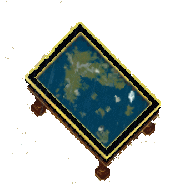 Decorative map holder – holds up to 500 maps
Skull rug – 200 SWR
Once a week gives you a random level 1-4 treasure map -Treasure Map
Dolphin rug – 200 SWR

Once a week he gives a message in a bottle – Message in a Bottle
Rose rug – 200 SWR
It gives a random seed – seed once a week
Mining Cart – 200 SWR



Deed allows you to place one of the two versions of the mining cart Ore cart Generates 10 random ore daily
Gem carts Generates 5 random gemstones daily
Koi pond – 200 SWR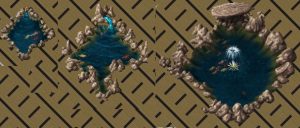 Pond available in three sizes – selection from the deed menu
Water wheel – 200 SWR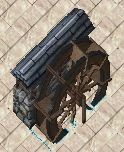 Decoration, but also serves as a source of water
** ATTENTION! Donations are non-refundable, also in the case of blocking the account on the server due to violation of the server rules.